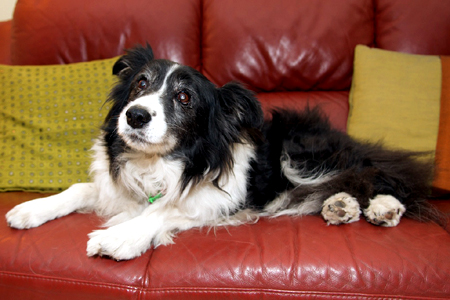 Bessie Belle Smith – now 12 years young
Bessie Belle, our adopted Border Colllie, made her way into our family via The Animal Rehoming Service in July 2006. I saw Bessie's photo and immediately knew I had to help find her a home.
We already had two dogs; Sam, a Kelpie X Labrador who was nearly 16 years old and Daisy, a 7 year old Labrador.
On her arrival, Bessie had a few health problems, but she is well and truly over them now.
Some time after we adopted Bessie we found out a little about her background and this made us even more pleased that we took her on. It was rumoured she came from a farm where she had to fend for herself. She had been picked up by the ranger probably after falling or jumping off the back of a ute. Nobody wanted her in her bedraggled and depressed state and she was going to be put down.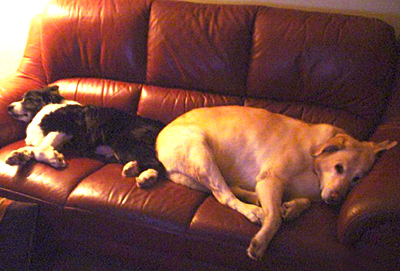 Bessie is now a different dog. From a dog that shied away from human contact, she's now first in line for pats and cuddles, sometimes even initiating contact. From a dog who didn't know about "treats" to a dog who is now a connoisseur of food. She has especially bonded with our son. She really has adopted Matthew.
Bessie loves her Saturday morning "coffee" where we go and meet other dog people. She now interacts with our neighbours on regular Friday night get togethers. She now has her special "beds". An animal print dog bed, two leather chairs and leather couch in the lounge room and another leather settee in the sitting room, not to mention a dog bed in the backyard and a mat in the conservatory. She certainly had made herself at home.
We are so glad we have Bessie in our home. Although an older dog, we hope we will have her for some time to come.
Gail Smith

Back to Testimonials & Gallery • Home
© The Animal Rehoming Service Inc. All Rights Reserved. ABN 51 275 837 567