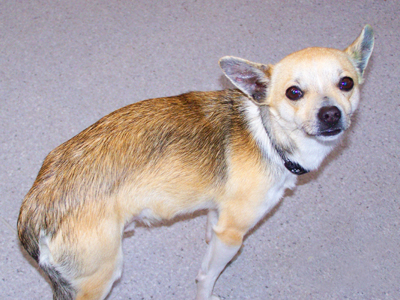 Clifford waiting for this new home
Clifford
Hi my name is Tonianne and I am the Lifestyle Manager for Fernhill Mercy Health & Aged Care in Sandringham. We have always had pets at our facility and when our Maltese past away I contacted Michaela to see if she had a dog suitable for us.
When Clifford arrived he was a sad and sorry sight. He had flea infested ears, he was very skinny and was a very frightened little fellow. Clifford had been neglected and abused. Well, now Clifford must think he has died and gone to heaven!! He is the most adored, spoilt dog you could ever meet.
Clifford is very protective of our residents; he loves visiting them in their room, hopping up on their laps.
Pet therapy is an essential part of our program. It provides a sense of well-being, a home-like environment for our residents, promotes relaxation and is an outlet for emotional expression.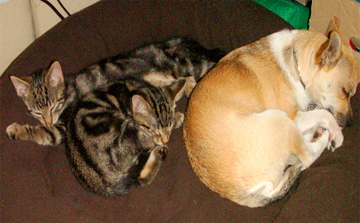 Clifford is an extremely intelligent dog and fits beautifully into his new home. The only down side to his life, is that our staff are overfeeding him: you know what it's like they look at you with those sorry eyes and say "Please feed me". And they do, two roast dinners a day!! He's gone from being an anorexic pup to a butter ball! He is now on a strict diet and is walked 5km every day and is looking good.
As you can see from the photo Clifford has two new playmates and has become very maternal to them. His life is now great!
Tonianne

Back to Testimonials & Gallery • Home
© The Animal Rehoming Service Inc. All Rights Reserved. ABN 51 275 837 567