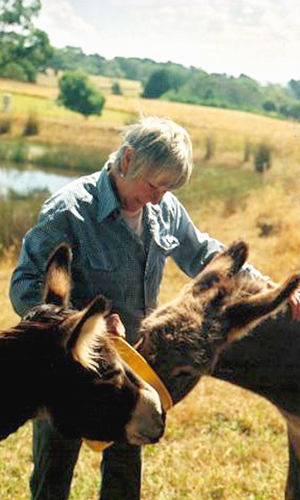 Jamie the Donkey
Binjel lived on a beautiful property in Main Ridge with her fellow donkey boyfriend until he unfortunately passed away.
Being a pack animal, Binjel couldn't cope with the loneliness, so her owners Bill and Tess contacted The Animal Rehoming Service hoping to find her another Donkey companion.
This unusual request went out to TARS' extensive database. Bill and Tess soon received word that three unwanted little donkeys were on their way to the slaughteryards.
With some negotiation, all three were saved from death row and were successfully rehomed. Bill, Tess and of course Binjel decided that Jamie should stay with them.
Jamie, Binjel, Bill and Tess have been living together happily, ever since!
Bill and Tess

Back to Testimonials & Gallery • Home
© The Animal Rehoming Service Inc. All Rights Reserved. ABN 51 275 837 567